The CareVoice, a global embedded health leader, announces today the launch of its Advisory Board composed of 6 members with deep expertise in insurance, healthtech, strategic planning, and ecosystem-led execution, chaired by Sabine VanderLinden. To support its leading role in embedded health, CareVoice intends to take advantage of recent advancements within this fast-moving emerging category following the successes of recent demands for embedded insurance with an estimated addressable market of $78 billion in 2022 rising to $2.535 Trillion in 2032 . CareVoice has decided to establish a think tank based advisory board composed of leading minds and industry experts who bring their unique perspectives to evaluate, advise and guide the company's future development in the embedded health category based on market shifts and user needs.
"Embedded Health can succeed as long as insurance corporations evaluate and adapt their business models based on the most relevant growth drivers . Baselined business models include pure digital health players, health-as-a-service enablers, and on-trend digital ecosystem orchestrators, as insurers evaluate platforms able to augment sales and distribution engagements. CareVoice, as a health insurtech scaleup offers health as a service capabilities to serve very targeted segments that ease digitized customer engagement through highly customised user journeys. Those journeys leverage an open digital health ecosystem" said Sabine VanderLinden, the Chair of CareVoice's Advisory Board.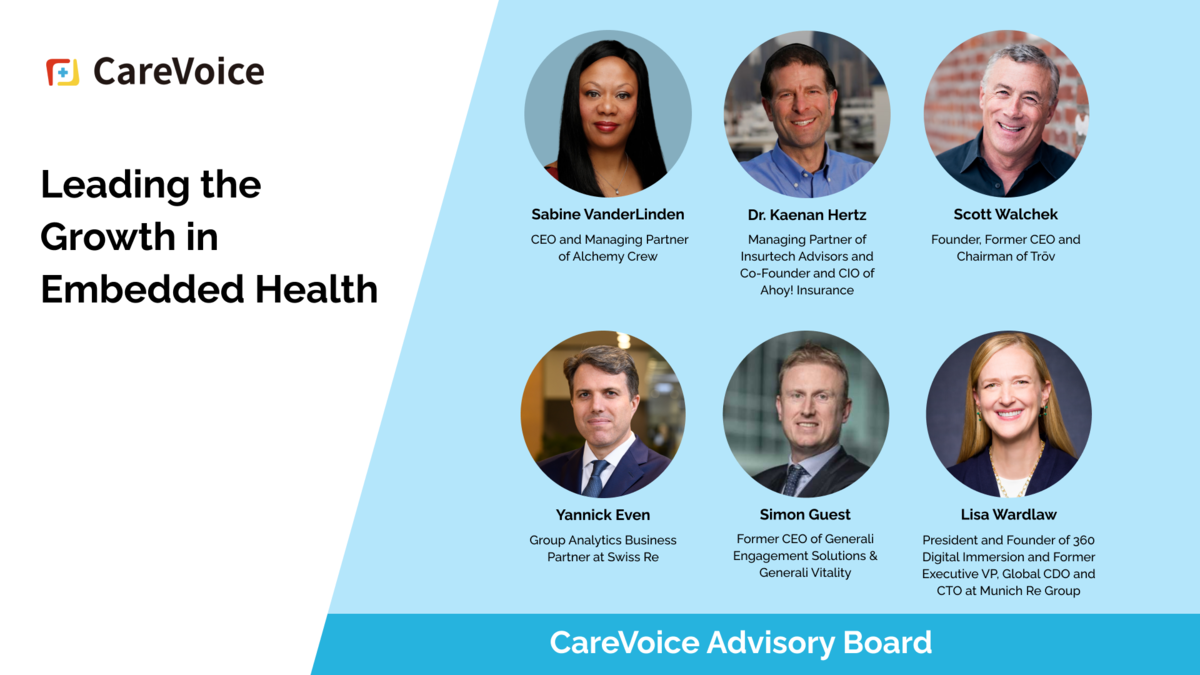 The Advisory Board members are:
Sabine VanderLinden, the CEO and Managing Partner of Alchemy Crew, a venture lab that accelerates the curation, validation, and commercialization of emerging tech ventures. Sabine is renowned within the insurance sector for building some of the most renowned tech startup accelerators around the world working with over 30 corporate insurers and accelerating over 100 startup ventures. The team has been working with well known leading corporations such as CIGNA, Nissay, Travelers, Zurich among a few.
Yannick Even, Group Analytics Business Partner at Swiss Re, coordinates the delivery of the data analytics strategy for the Swiss Re Group and in particular across the APAC region. He oversees the delivery of Responsible AI based solutions, research, partnerships and thought leadership and is a regular speaker at major tech & industry events.
Simon Guest, former CEO of Generali Engagement Solutions, led the partnership between Generali and Discovery between 2014 and 2022 bringing the Vitality wellness proposition to Europe. Prior to this position, he was also Global Head of Protection & Health at Generali and Global Head of Protection at AXA.
Dr. Kaenan Hertz , Managing Partner of Insurtech Advisors and Co-Founder and Chief Insurance Officer of Ahoy! Insurance, has been instrumental in revolutionizing small and mid-sized insurance companies by integrating them with cutting-edge Insurtech advancements. Throughout his career, Kaenan has held senior executive positions in marketing strategy and decision management at leading insurance, banking, and finance organizations such as USAA, Citibank, Sallie Mae, and top consulting firms PwC and EY.
Scott Walchek, is a successful technology entrepreneur whose companies have helped transform several markets including design, e-commerce, search, financial marketplaces, entertainment, and insurance (his latest venture, Trōv a global insurtech, was acquired by Travelers Insurance in 2022). Scott also serves as a Non-Executive Board Director of CareVoice.
Lisa Wardlaw has 30-years of experience as a global executive in the finance and insurance industries along with a track record of leading large-scale digital transformation initiatives. During her tenure with Munich Re Group, Lisa has led successful digital business models that increased the global percentage of covered risk events by forming digital ecosystems and new products. She also serves as a Non-Executive Board Director of CareVoice.

"We are thrilled to work closely with the members of our Advisory Board who have complementary experiences across insurance, healthcare, and analytics, with successful execution at scale. As an emerging global leader in digital health engagement and ecosystem for health and life insurance, it is highly valuable to further shape and demonstrate the use cases and economic values of embedded health solutions and drive together the transformation of the way insurers engage with customers," said Sebastien Gaudin, CEO and Co-founder of CareVoice.
The CareVoice is a global embedded health leader who enables insurers to engage with their customers through configurable user journeys that leverage an open digital health ecosystem.
CareVoice has teams based across Asia and Europe, and services insurers also in the Middle East and Latin America regions.
Graduated from Chinaccelerator program (2016), Ping An Tech Accelerator (2018) and Insurtech Munich Hub (2020), CareVoice received multiple awards and ranked amongst the top 100 Global Insurtechs (2022).