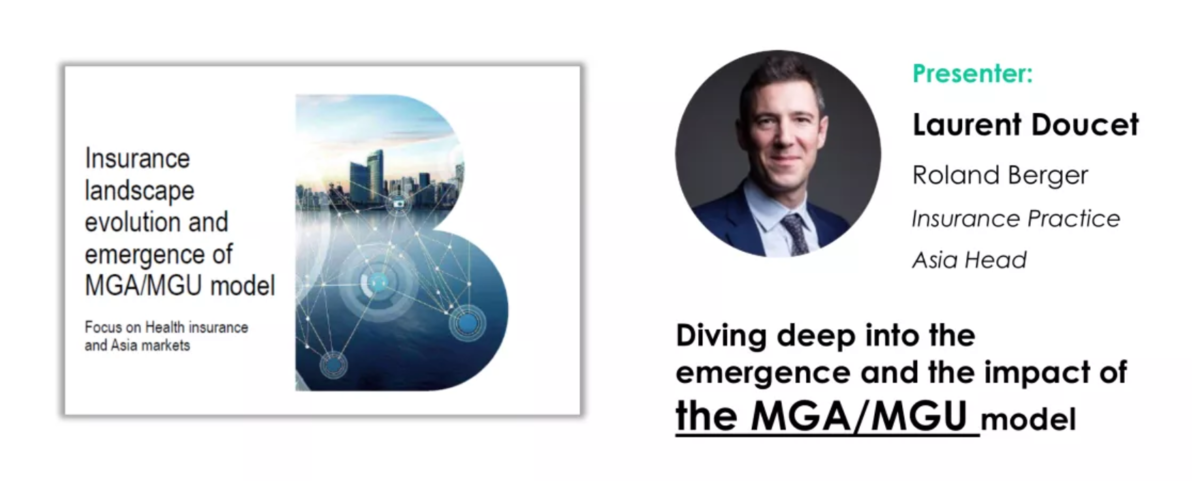 Laurent from Roland Berger started the webinar by presenting Roland Berger's newly published report -Insurance Landscape Evolution and the Emergence of MGA/MGU model. As the insurance landscape goes through major shifts, players from reinsurers to medical providers are looking to extend their capabilities to new areas. He highlighted that the MGA model has emerged as a facilitator of traditional players' strategic evolution as well as the cross integrations between players in the industry. Such an in-depth, comprehensive study dedicated to MGA/MGU is not to be missed… you can download the report here.
Now, let's take a look at the takeaways our panelists have from the report and the food for thought they have on MGA.
Our panelists all have rich experience in the industry, yet they assume different roles and can therefore offer different perspectives, which made the discussion all the more exhilarating...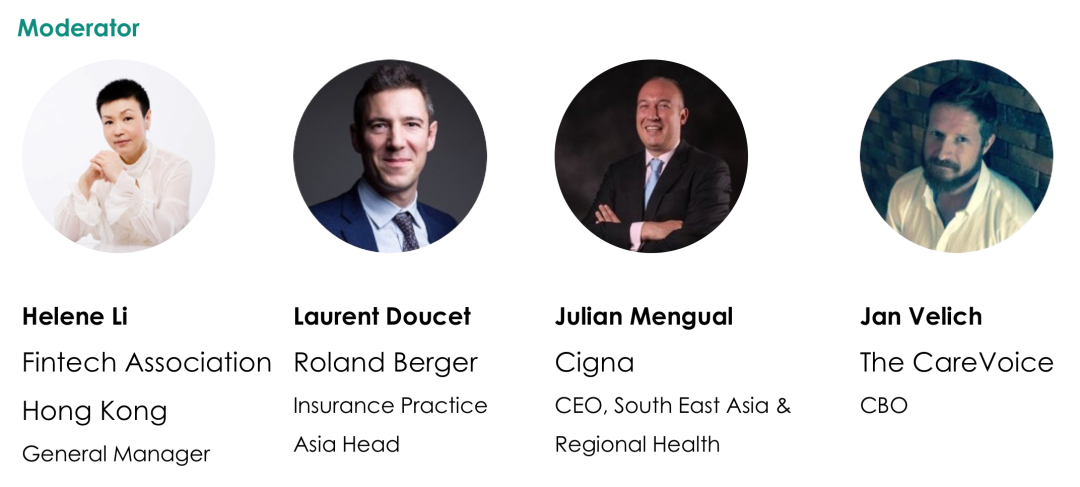 As our moderator, Helene, a seasoned finance industry executive guides the discussion, we extracted these insights from our panelists...
First impressions, key takeaways
Julian
Making collaborations work is very much about mutual cultural understanding. As said in the report, most MGAs are startups. Startups may not be so attuned to incumbent insurers' rigid corporate processes, while insurers are often unfamiliar with startups' roll-up-your-sleeves rhythm. It's through understanding each other's expectations and recognizing the need for an adaptive process that they can collaborate more efficiently and create positive synergy.
Jan
Insurers, overall, are still quite heavily impacted by COVID. What they are looking for right now is to quickly recoup their losses. Entering a market where consumer confidence is coming back up, insurers need to quickly take advantage of the opportunity and work to stay ahead of the competition. This is where MGAs come in. MGAs equip insurers with product, tech, and distribution capabilities quick so that they can immediately rise to the occasion.
In which segments will MGA offer the most value?
Laurent
"Time to market" and "access to channels."
I would highlight that "affinity products", which are products that target specific customer segments, is an especially valuable form of collaboration between insurers and MGAs now.
Jan
Long-term collaborative relationships
From our experience working with clients, especially in the case of affinity products, we are involved in the entire process..we do the market research, support product development, plan out sales and channel strategy.. everything is interconnected. I think value creation is not necessarily at specific segments, it's through a long-term collaborative relationship where we work towards a collective goal.
Julian
Tech Platforms
I may not be able to develop tech capabilities as quickly myself, outsourcing gives me quicker time to market.
Digitalizing sales process - isn't that the ultimate goal of insurers? Are MGAs taking their jobs?
Julian
As an insurer, you need to pick your battles
Yes, insurers play a key role in distribution, but as an insurer it's still important to contemplate what role you play in the ecosystem. You can't be a master of everything, so you want to focus on the part where you can add the most value. That dictates what you want to own and what you want to delegate. This is what I think about when I think about the long term strategy at my work.
Jan
Not everyone has to be masters of sales
That may be a bit of a generalization. Insurers now are of different sizes, origins, and history. They also have had different strategic and geographic focus in the courses of their growth. AIA already has an army of agents in Asia, but not every insurer is blessed with these kinds of resources. It really depends on the insurer. Like Julian just said, regardless of your size, you have to pick your battles.
How do the collaborations with MGAs actually work in action?
Julian
Coherent platforms and processes
There are an infinite number of ways that you can expand a platform. We invite customers to a digital platform and we can build all kinds of services around it. The diversity in services can help us access customers that we may not be able to reach ourselves.The core member services such as streamlined claim adjudication and processing are also important. What's also very appealing to us is integrated insights. Integrated data that comes from one platform can inform our product development and strategies. A coherent process from platform to insights to product development is a perfect process that every insurer desires.
Jan
Product Collaboration
This can relate back to what we do at The CareVoice. In the past 6 months, I have seen a rapid increase in demand from insurers to leverage 3rd party partners to help them quickly establish capabilities that they lack and recoup losses from COVID-19. We help them identify customer segments with high potential, and use alternative distribution channels to reach target customers. Those channels may not be selling insurance today, but they can be selling in the future. These efforts help them to achieve ostensible results in limited amounts of time.
Are MGAs threats and challenges?
Laurent
The bottomline of any insurers wanting to partner with MGAs is value creation. They partner because the synergy can provide them with upside. Partnerships will develop naturally if both sides can benefit.
Julien
Again, I don't think insurers can do everything perfectly. As insurers engage more and more with MGAs, everything from commoditization, to standardization, to product differentiation, to customer journey, to how data flow through and how analytics are applied are all areas that MGAs can add immense value in. For now, the benefits exceed the downsides.
Laurent
COVID forced businesses to make changes that are long overdue. It's a blessing in disguise and a catalyst for progress.
jan
Like Helene remarked earlier, the insurance players are not in a race against each other, they are all in a race against time. It's important that they become receptive to partnerships and become discerning in identifying the right partners. The new, collaborative ecosystem is really something to look forward to.
Julien
COVID forced us to create simplicity within our organizations. Simplicity in internal operations, simplicity for customers to access your services. Having bravery and agility makes for successful players post-COVID.