Shanghai, June 2020 - China International Intellectech Shanghai (CIIC) and The CareVoice jointly launched a dual language digital healthcare service for international customers on the official website of the Permanent Residence Service Center of the Exit-Entry Administration Bureau of Shanghai Public Security Bureau (hereinafter referred to as "Shanghai Permanent Residence Service Center"). The healthcare service is dedicated to help non-local residents navigate the city, access healthcare more easily, and facilitate integration into the local community.
The Shanghai permanent residence service center is the first social service hub dedicated to serving permanent resident expatriates in China. It appoints CIIC, a professional foreign service agency to provide language, education, medical consultation and social integration services. In the post-epidemic era, healthcare services would be an indispensable component of social services.

Jointly launched by CIIC and The CareVoice, the healthcare service includes:
1) Smart hospital navigation, which helps users to find fever clinics and hospitals that offer coronavirus screening nearby, as well as any other needed medical centers;
2) Health information, offering latest news about the virus and virus prevention tips.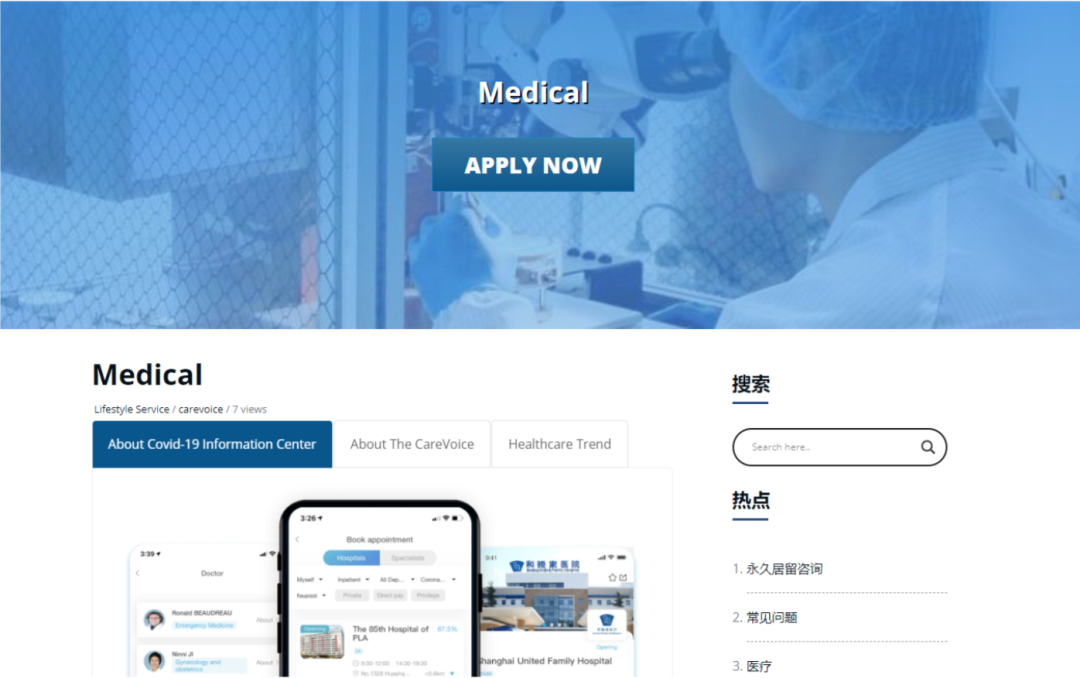 Users can find the healthcare service by entering the homepage of the official website of the Permanent Residency Affairs Service Center through their official WeChat account and clicking on the "Medical" button in the immigration integration service list. The program is available both in Chinese and in English.
Through the intelligent search function, users can easily find nearby hospitals or clinics by filtering for distance, departments, and reviews. In response to the coronavirus outbreak, the concierge also added coronavirus fever diagnosis and designated screening hospital search. If users have suspicious symptoms, they can easily find a hospital that provides screening nearby. For people that are seeking in-patient care for other conditions, they can avoid the virus screening hospitals to prevent cross infection.
"As a leading international health insurtech in China, we have long been committed to providing international and local customers with digital healthcare and insurance experiences." Said Sebastien Gaudin, Co-founder & CEO at The CareVoice, "It's an honor to partner with CIIC and bring our Covid-19 Information Center to its customers in need. We look forward to a successful collaboration. "
In the near future, CareVoice and CIIC will expand their collaboration to provide more wellbeing, medical and insurance digital services on CIIC platform to international and local customers.