Hong Kong, February 20th 2020 – The CareVoice, an international health insurtech company based in Shanghai, announced today that it is further expanding its "Care" insurance portfolio in Hong Kong.
While Hong Kong's private health insurance market is mature, the level of differentiation among products is still limited. This presents an expansive opportunity for innovative insurance products that specifically target the untapped demographics.
The CareVoice collaborates with insurers to create and launch innovative "Care" insurance products by targeting untapped market segments. They address specific wellbeing needs and medical risks by designing relevant insurance coverage and bringing in a unique combination of consumer-centric "Care" and "Cure" services. Care services - i.e., Vibrant, a heart-rate based activity tracking program - allow insurers to engage members on prevention; Cure services - i.e., Smart healthcare provider navigation - enable insurers to efficiently and cost-effectively address targeted customer pain points while navigating the healthcare system. The "Care" insurance products leverages innovative distribution models such as affinity marketing and smart sales channels to drive efficiency.
Besides joint investment with its insurance partners, The CareVoice brings to the table a validated product prototype based on extensive market due diligence, a fully digitized customer journey that can be quickly enabled by CareVoiceOS, and a go-to-market strategy which it implements with competence. The CareVoice has so far successfully partnered with five insurers and created half a dozen "Care" products that each addresses a different demographic based on age, lifestyle, or employer profile.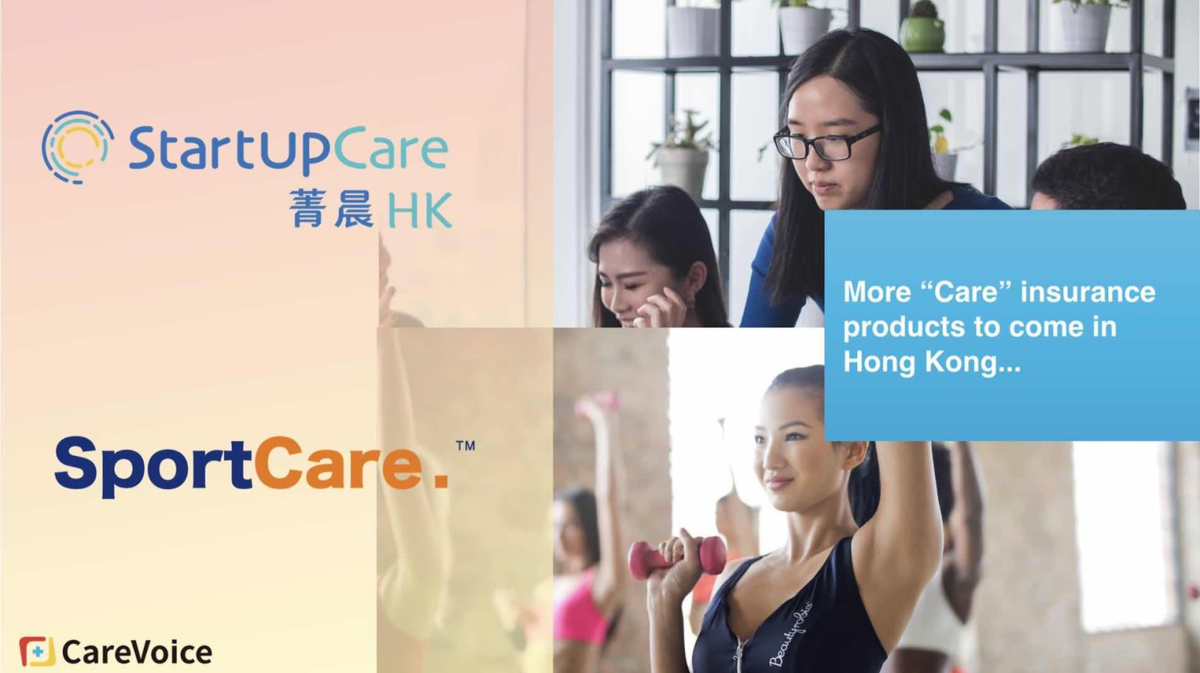 The CareVoice's first "Care" series product is StartupCare - a health benefit solution tailor-made for startups. Since its introduction to Shanghai in late 2018, it has served nearly 200 startup and SME customers, demonstrating efficient commercial models, best performing claim ratio and renewal rate. StartupCare was recently launched in Hong Kong, under a partnership with Generali, with a very good initial market response. Another "Care" product, SportCare, which targets sports enthusiasts, is set to launch soon with a major insurance player in Hong Kong.
The CareVoice has been in operation in Hong Kong since late 2018. Its technology platform and solutions are fully adapted to the local healthcare market and language specificities, matching the security and privacy standards of Hong Kong insurers. The smart health provider navigation service covers a combined network of over 8,000 healthcare professionals and institutions. It can be combined with TPA capabilities with its partnership with InterPartner Assistance.
David Fontaine, Chief Insurance Officer at Generali Hong Kong, said, "At Generali, we are committed to shaping a safer future by caring for the lives and dreams of Hong Kong people, and therefore we are thrilled to partner with StartupCare to launch this very innovative group medical insurance. It is truly comprehensive, simple, cost-effective and avoids hidden surprises for our policyholders."
Jan Velich, Chief Business Officer and Co-founder at the CareVoice, said, "consumers' attitude in buying insurance has turned more and more from passive to proactive. When it comes to creating products, it's no longer just about competing prices, it's about approaching customers from unique angles to educate, appeal, and convince. We are lucky to be working with amazing insurer partners to deliver our "Care" products with novel value propositions. After our first two partnered products in Hong Kong, it feels like the right time to accelerate and expand our "Care" family in Asia's biggest private insurance market that is saturated yet still well-positioned for innovations."
The CareVoice has designed several new "Care" products for the Hong Kong market. It is initiating partnership discussions with Hong Kong insurers who it will have the greatest synergy with on launching these innovative medical insurance products.
About The CareVoice The CareVoice is a Shanghai-based insurtech platform with a vision to make health insurance more consumer-centric. Our solution, CareVoiceOS, is the first operating system created for insurers to better serve their members while improving operational efficiencies. Insurers can leverage our digitized customer experience to provide their members with an enhanced user journey, from hospital navigation, filing claims to health management. In addition, we aim to become a valuable partner to insurers in co-creating innovative insurance products. Our ability to identify untapped market segments and create customized digitized solutions for specific segments allows us to help insurers drive greater differentiation and sales growth in the competitive market. Our result-driven solutions have created substantial positive business impact in Mainland China and Hong Kong. We are financially backed by top China-based and overseas Software, FinTech and Healthcare investment funds. To learn more about The CareVoice, please visit us at http://www.thecarevoice.com/.
About StartupCare
In partnership with Generali Hong Kong, StartupCare Hong Kong provides tailor-made employee health benefits solutions for SMEs with comprehensive health services and cost-effective medical plans for all ages and demographics, with access to Generali's broad network of 2,500+ medical providers. Combined with our cutting-edge mobile health services, we help businesses control budgets, support unwell employees, and save costs in unforeseen productivity loss. Ultimately, we aspire to support founders and their teams on further growth for their businesses, without being held back by issues in health or wellness. To learn more, please visit us at http://www.startupcare.com.hk. 
About SportCare
SportCare is an innovative digital healthcare management solution specially designed to meet the needs of sport enthusiasts and to empower them to lead a healthy and holistic lifestyle. With our partner's professional medical insurance and The CareVoice's value-added digital service, SportCare provides sport enthusiasts with comprehensive coverage and protection, daily health monitoring and professional medical care that help them to maintain great health and achieve maximum fitness potential.