Add Coronavirus Information Center to your services for free!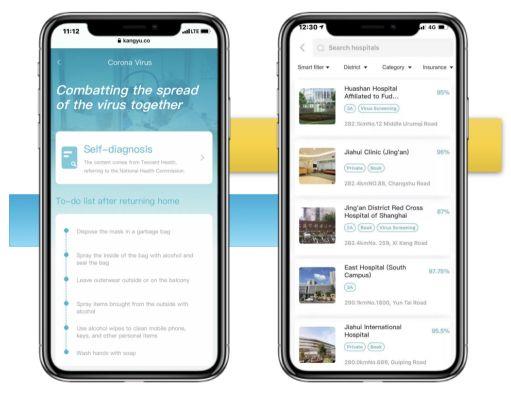 You may have heard about the Coronavirus information center that we recently launched for our existing insurer clients and their members. We have great news - we are now offering to implement it on the digital platform of any insurer for free, and it can happen within a single day!
The impact of coronavirus has been beyond what everyone originally imagined. Albeit at a slower pace, infected cases and death toll continue to climb. There are strong signs of hope, yet uncertainty still prevails.
A time like this - insurers' employees are working from home and customers' needs for services and emotional support are greater than ever - reminds insurers of how important it is to interact with customers fully digitally.
Our information center's functions include,
1) a hospital directory that allows users to search for designated hospitals and clinics for Coronavirus screening and treatment,
2) a self-diagnosis tool (provided by Tencent Health), and
3) curated latest educational content on Coronavirus
All of the above can be easily implemented within your existing digital environment.
It's a crucial time to stay in touch with your members, a prime opportunity to build bonds with them and increase their loyalty to your brand. We know your hands are already too full managing your team under the special circumstances created by Coronavirus, we are here to help you implement these much-needed services fast and for free.
Why work with us?
Fast and easy integration
The coronavirus information center can be integrated with insurers' web, WeChat, and WhasApp service centers in as little as 1 day via authorized weblinks. The integrations require minimum effort from insurers' technology teams and involve no concerns on data privacy or security.
Trustworthy information and a dedicated team
We sourced all the data from local government websites. We have a dedicated team that pays close attention to changes in government guidelines and make updates accordingly. We guarantee data of the highest quality so you don't have to worry about it.
A hospital directory created just for this outbreak
If users have related symptoms, they can quickly find hospitals and clinics for Coronavirus screening and treatment nearby. For users who do not have those symptoms, they can avoid visiting hospitals designated for Coronavirus screening to prevent cross-contamination.
Bilingual
We have the English and Chinese versions of the entire set of functions fully ready to serve your local and English-speaking members.
We already have free online consultation services, do we still need the information center?
Our hospital directory allows users to navigate hospitals and clinics near them and identify which ones are designated by the government for Coronavirus screening. It would be a very useful addition to your online consultation services.
What if don't have the time or resources to make this happen?
Our services can be implemented in as little as one day and requires no effort or resource input from your side. It's also free.
We need headquarter's approval, which takes a long time.
The processes can be made a little more flexible in this special time. Our integration process is designed such that it does not raise data security or privacy concerns. We are very confident about our services and we will do our best to assist you to get through the process.
This time, it's on us
If you have been fretting over losing touch with your customers and have not taken any relevant actions to respond to the Coronavirus outbreak, this is your chance to implement something fast and fuss-free.
Connect with us to take advantage of this opportunity!