Shanghai, December 18th, 2018 – The CareVoice, a Shanghai-based insurtech startup announced today the official launch of the 1st health benefit and insurance for startups in China, StartupCare™, committed to helping startups attract and motivate top talents, and consequently achieve the maximum level of performance.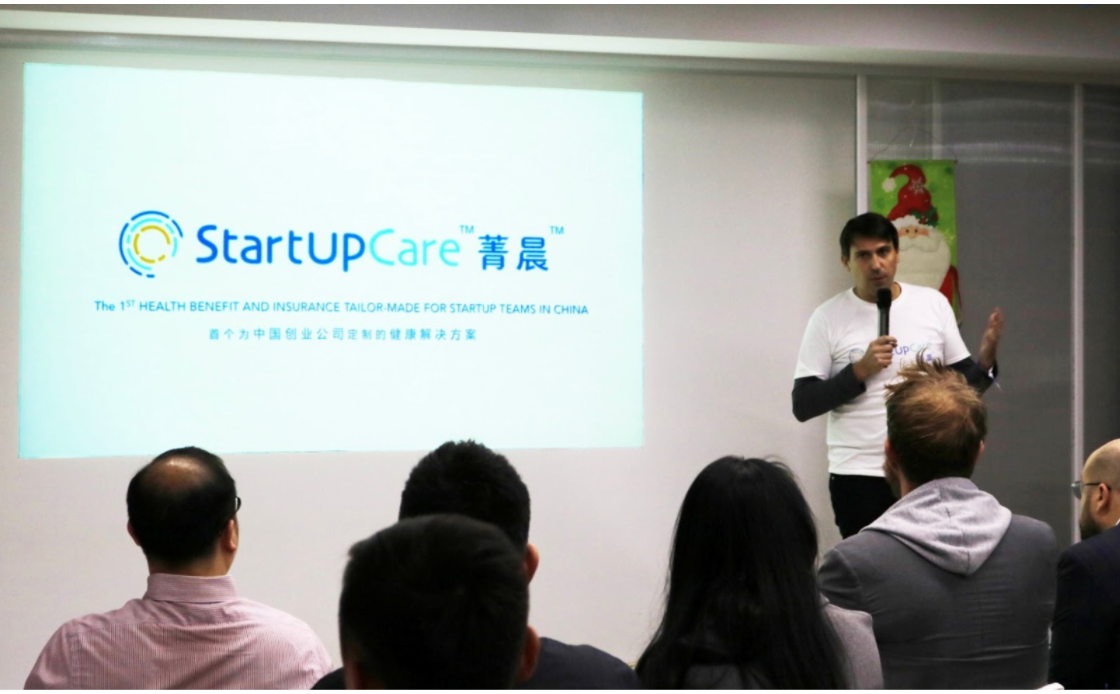 Sebastien Gaudin, co-founder and CEO of The CareVoice at the Launch event
As an innovative health solution, StartupCare™ combines a premium medical insurance with fully digitalized health and insurance services. Startup business is running on a high-speed pace so it is critical to have high-performing and efficient teams who are embracing the digital world. StartupCare™ rewards physically active teams, provides 24/7 virtual care and fast-track to medical professionals with full reimbursement when needed. All that is available from 200 RMB per staff per month, with different benefits for different levels of staff!
StartupCare™ also transforms the way of designing and promoting employee health benefits. It results from a partnership between Ping An Health, a top insurance company in China, and The CareVoice, an established health insurtech providing customer-centric SaaS (software-as-a-service) platform digitizing healthcare journey and working together with insurers to design innovative insurance and improve customer engagement.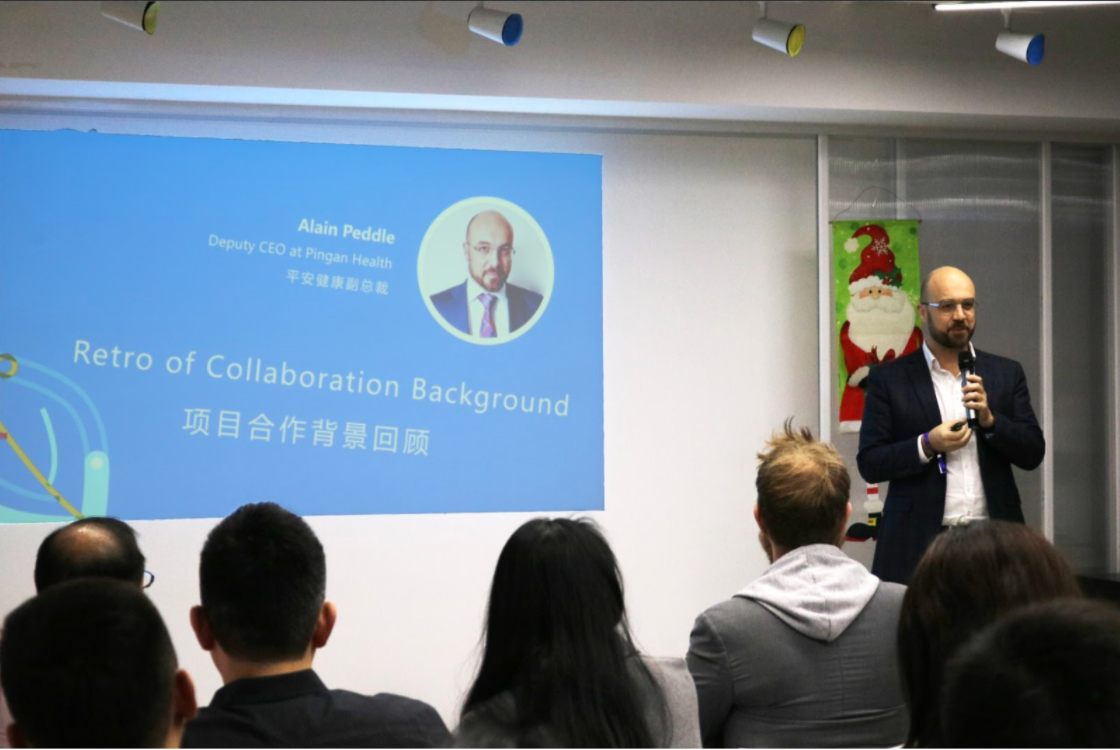 Alain Peddle, Deputy CEO of Pingan Health at the Launch event
"Ping An Health is continuously innovating to bring more personalized and efficient medical insurance products for addressing consumers and employees' needs across China. As part of our strategy to address specific segment niches and leverage latest technologies, we partnered with The CareVoice for launching this innovative solution for startup teams. Not only their need is rather specific but also the way to engage with entrepreneurs requires totally new approaches. We are very glad for the early results of StartupCare!" said Alain Peddle, Deputy CEO at Ping An Health.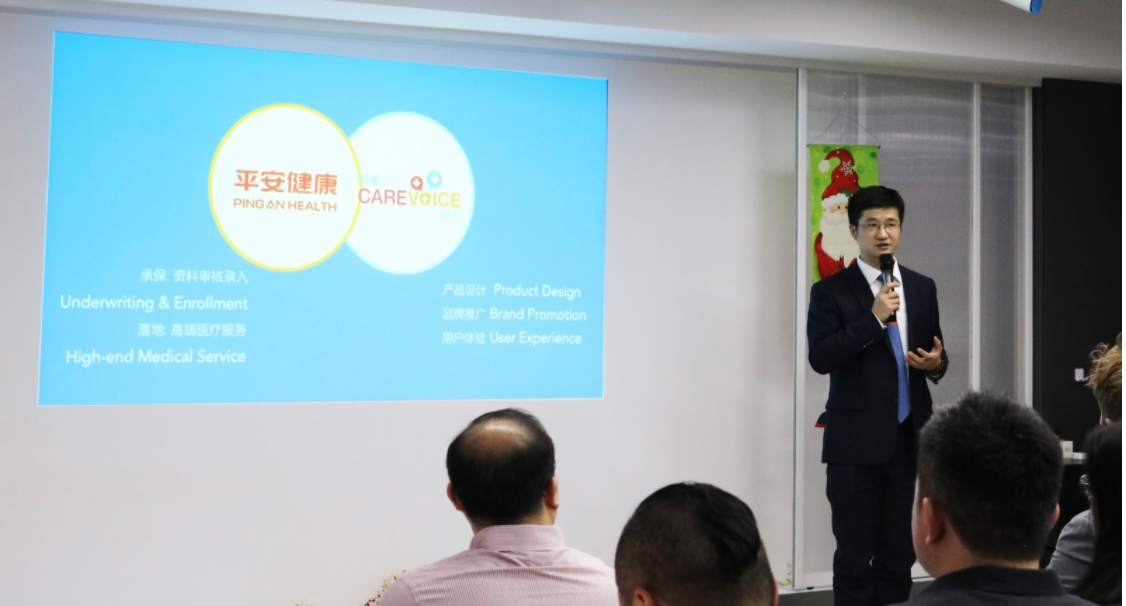 Yang Hailei, GM of Pingan Health Shanghai at the Launch event
Since its soft launch in May in Shanghai, StartupCare™ has already gathered nearly 50 local and international startups through unconventional promotion methods and has established partnerships with leading co-working spaces and startup accelerators such as XNode, Chinaccelerator or WeWork.
"A powerful team is the engine behind any inspiring startup stories, a crucial factor whether your venture will fly or sink. You need to attract top talent, keep them productive and motivated while earning their trust to have your back when things get tough. Building a strong and energetic team can be a challenging task for any startup founders," said Jan Velich, co-founder & CBO of The CareVoice, "as a startup, we feel the same and are thrilled to launch a fully digital health solution that provides startups with unique values and tailored benefits, ultimately unleashing startup dreams coming through."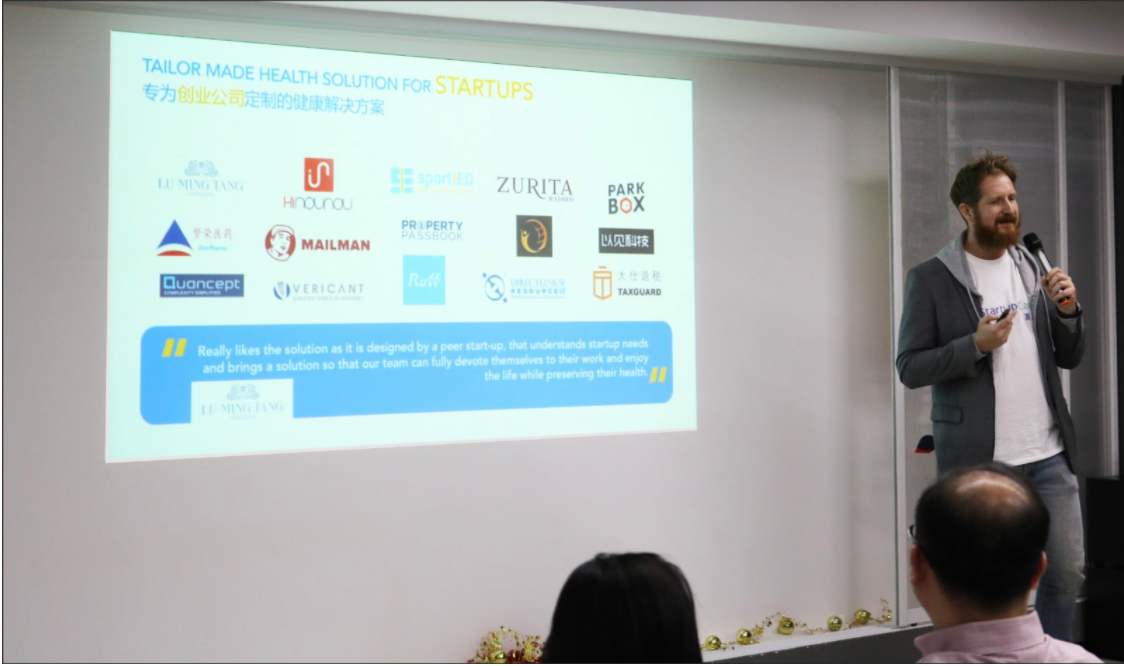 Jan Velich, co-founder & CBO of The CareVoice at the Launch event
"Entrepreneur is a high risky occupation. Luckily, we get well protected by StartupCare, which provides tailor-made health solution for startups with convenient health service and cost-effective medical plans," said Huang Xiaolei, co-founder and CEO of Parkbox, leader in smart 24h fitness cabin pioneering, " so that we high-risk groups can have fewer worries and dedicated more to business."
Imagine a scenario where a startup team can enjoy weekly sports competition and get rewarded with vouchers to keep them healthier. When some of its members need medical help, they can simply talk to AI Voice-based Virtual Health Assistant first to find out whether they need a medical visit. If so, they can get supported to find relevant medical providers, get physician appointment and e-reimbursement services, all simply on mobile, faster access to healthcare resources and unprecedented customer experience.
Sebastien Gaudin, co-founder and CEO at The CareVoice, explained, "in the course of Ping An Cloud Accelerator we recently graduated, we have been so amazed by StartupCare™ take-off and the need for such product and other insurance and team benefits for startups, that we decided to spin-off this new activity into a new company that is already been backed by our existing shareholders and poised to a great future considering China has already 4 million startups!"